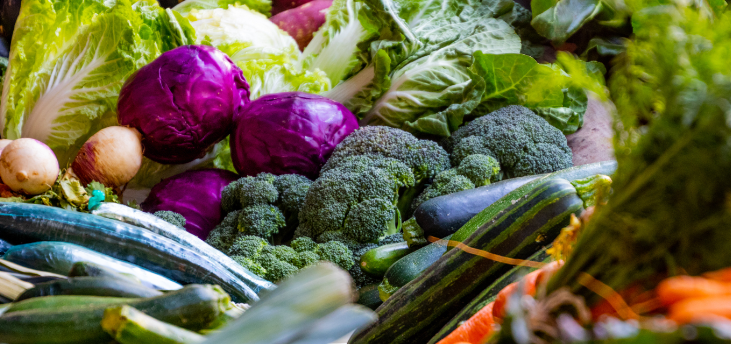 We are lucky to live in New England where fresh fruit and vegetable season peaks during the summer months. Eating at least five servings of fruits and veggies a day should be part of your diet all year round, but it's easier—and tastier—to find fresh, local options now, during National Fruit and Vegetable Month. We offer some tips below to get you inspired to make five a day part of your dietary routine.
5 Tips for Five a Day
Visit your local farmers' market. We have an abundance throughout western Massachusetts. In the grocery store, buy produce that's in season locally as it's more likely to be from local farmers, which means it's fresher.
Add fresh strawberries, blueberries or blackberries to your summer breakfasts, on your cereal or on the side.
Enjoy a healthy smoothie or salad for lunch, made with your favorite fruits and vegetables, like apples, kale, carrots, spinach peaches and ginger. Throw in some protein to make it more filling, like roasted chicken on a salad or peanut butter in a smoothie. Make up your own flavor combos!
Fruits and veggies also make great and portable snacks when you are on the go. If you crave something on the sweet side, check out local melons like cantaloupe, honeydew and watermelon.
Add two vegetable sides to dinner. It can be as simple as sliced tomatoes and cucumbers or steamed zucchini. Or try your hand at homemade applesauce with cinnamon for a yummy side or dessert.
Delicious and Nutritious
Fruits and vegetables are not only delicious but are a good source of vitamins and minerals, including folate, vitamin C and potassium. They're an excellent source of dietary fiber, which is important for proper bowel function, and help provide a feeling of fullness with fewer calories. Speaking of which, the majority of fruits and vegetables are naturally low in fat, calories and sodium and don't have cholesterol.
Still finding it tough to get your five a day? Make an appointment with our nutritionist for more ideas.