THE REGION'S MOST EXPERIENCED BARIATRIC SURGEONS
More Laparoscopic Adjustable Gastric Band Procedures Than Any Other Practice in New England
Learn About Adjustable Gastric Band Surgery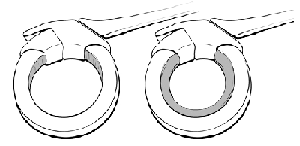 Approved by the FDA in June 2001, Laparoscopic Adjustable Gastric Band System is the safest, least invasive and only adjustable surgical treatment for morbid obesity in the United States. It induces weight loss by reducing the capacity of the stomach, which restricts the amount of food that can be consumed.
Since its clinical introduction in 1993, over 200,000 laparoscopic adjustable gastric band procedures have been performed around the world.
Minimal Trauma
Least invasive surgical option
No intestinal re-routing
No cutting or stapling of the stomach wall or bowel
Small incisions and minimal scarring
Reduced patient pain, length of hospital stay and recovery period
Fewer Risks and Side Effects
Significantly lower mortality risk compared to other obesity surgeries¹
Low risk of nutritional deficiencies associated with gastric bypass
Reduced risk of hair loss
No "dumping syndrome" related to dietary intake restrictions
Adjustable
Allows individualized degree of restriction for ideal, long-term weight loss rate
Adjustments performed without additional surgery
Supports pregnancy by allowing stomach outlet size to be opened for increased nutritional needs
Reversible
Removable at any time
Stomach and other anatomy are generally restored to their original forms and functions
Effective Long-Term Weight Loss
More than 200,000 laparoscopic adjustable gastric bands placed worldwide
Standard of care for hundreds of practices around the world
Academic publications with up to 9 years of follow-up
Executive summary: Laparoscopic adjustable gastric banding for the treatment of obesity (Update and Re-appraisal). The Australian Safety and Efficacy Register of New Interventional Procedures – Surgical (ASERNIPS) 2002; 1. (Laparoscopic adjustable gastric banding surgery, like the laparoscopic adjustable gastric band surgery, is associate with a mean short-term mortality rate of around 0.05% compared to 0.50% for Gastric Bypass and 0.31% for Vertical Banded Gastroplasty.)
Am I A Candidate for Adjustable Gastric Band Surgery?
The LAP-BAND® System is not right for everyone. Here are some of the things we will consider when evaluating your candidacy for obesity surgery.
The LAP-BAND System is indicated for use in weight reduction for severely obese patients with a Body Mass Index (BMI) of at least 40 or a BMI of at least 35 with one or more severe co-morbid conditions, or those who are 100 lbs. or more over their estimated ideal weight.
The LAP-BAND System may be right for you if:
You are at least 18 years old.
Your BMI is 40 or higher or you weigh at least twice your ideal weight or you weigh at least 100 pounds more than your ideal weight. (BMI is calculated by dividing body weight (lbs.) by height in inches squared (in²) and multiplying that amount by 703).
You have been overweight for more than 5 years.
Your serious attempts to lose weight have had only short-term success.
You do not have any other disease that may have caused your obesity.
You are prepared to make substantial changes in your eating habits and lifestyle.
You are willing to continue being monitored by the specialist who is treating you.
You do not drink alcohol in excess.
If you do not meet the BMI or weight criteria, you still may be considered for surgery if your BMI is at least 35 and you are suffering from serious health problems related to obesity.
The LAP-BAND System is not recommended for non-adult patients, patients with conditions that may make them poor surgical candidates or increase the risk of poor results, who are unwilling or unable to comply with the required dietary restrictions, or who currently are or may be pregnant.
The LAP-BAND System is not right for you if:
You have an inflammatory disease or condition of the gastrointestinal tract, such as ulcers, severe esophagitis, or Crohn's disease.
You have severe heart or lung disease that makes you a poor candidate for surgery.
You have some other disease that makes you a poor candidate for surgery.
You have a problem that could cause bleeding in the esophagus or stomach. This might include esophageal or gastric varices (a dilated vein). It might also be something such as congenital or acquired intestinal telangiectasia (dilation of a small blood vessel).
You have portal hypertension.
Your esophagus, stomach, or intestine is not normal (congenital or acquired). For instance you might have a narrowed opening.
You have or have experienced an intra-operative gastric injury, such as a gastric perforation at or near the location of the intended band placement.
You have cirrhosis.
You have chronic pancreatitis.
You are pregnant. (If you become pregnant after the BioEnterics LAP-BAND System has been placed, the band may need to be deflated. The same is true if you need more nutrition for any other reason, such as becoming seriously ill. In rare cases, removal may be needed.)
You are addicted to alcohol or drugs.
You are under 18 years of age.
You have an infection anywhere in your body or one that could contaminate the surgical area.
You are on chronic, long-term steroid treatment.
You cannot or do not want to follow the dietary rules that come with this procedure.
You might be allergic to materials in the device.
You cannot tolerate pain from an implanted device.
You or someone in your family has an autoimmune connective tissue disease. That might be a disease such as systemic lupus erythematosus or scleroderma. The same is true if you have symptoms of one of these diseases.
While the LAP-BAND System is an effective treatment for morbid obesity, the pounds do not come off by themselves. The LAP-BAND System is an aid to support you in achieving lasting results by limiting food intake, reducing appetite and slowing digestion. However, your motivation and commitment to adopt a new lifestyle are extremely important for long-term weight loss. You must be committed to new eating habits for the rest of your life. Exercise is an equally important component of a changed lifestyle.
The LAP-BAND System is a long-term implant. Explant and replacement surgery may be required at some time. Patients who become pregnant or severely ill, or who require more extensive nutrition may require deflation of their bands. Patients should not expect to lose weight as fast as gastric bypass patients, and band inflation should proceed in small increments. Anti-inflammatory agents, such as aspirin, should be used with caution and may contribute to an increased risk of band erosion.
Placement of the LAP-BAND System is major surgery and, like any surgery, death can occur. Possible complications include the risks associated with the medications and methods used during surgery, the risks associated with any surgical procedure, and the patient's ability to tolerate a foreign object implanted in the body.
Band slippage, erosion and deflation, obstruction of the stomach, dilation of the esophagus, infection, or nausea and vomiting may occur. Reoperation may be required.
Rapid weight loss may result in complications that can require additional surgery. Deflation of the band may alleviate excessively rapid weight loss or esophageal dilation.
Not all contraindications, warnings or adverse events are included in this brief description. More detailed risk information is available at www.lap-band.com or 1-877-LAP-BAND.
Frequently Asked Questions About Gastric Band Surgery
Ready To Get Started?
Find out about our free informational seminar on bariatric surgeries including Gastric Bypass, Laparoscopic Adjustable Gastric Band, and Sleeve Gastrectomy
O'Brien P., et al, LAP-BAND: Outcomes and results, J of Laparoend & Adv Surg Techniques, 13(4), 2003, 265-270. Clegg A., Colquitt J., et al, The clinical and cost effectiveness of surgery for people with morbid obesity, Health Technology Assessment, 6(12) 2002, 1-153.
Dixon J., Dixon A., O'Brien P. Light to Moderate Alcohol Consumption: Obesity and the Metabolic Syndrome. Am J Bariatric Medicine 2002; 17(4): 11-14.